AGRG Coastal Team Concludes Active Summer of Fieldwork and Gears up for the next Topo-Bathy lidar Mission
Below is a photo of the entire coastal team taken after a day of deploying underwater light sensors, a Hydrolab water quality probe with a turbidity sensor. This fieldwork was conducted to acquire a time series of light levels at various water level and water quality conditions as this directly effects how deep the green laser on the topo-bathymetric lidar sensor will penetrate. Other data collected near the light sensor deployment sites includes an AGRG weather station and tide gauge. We also deployed our RiverRay current metre to a fixed mooring to evaluate how the down-looking ACDP would work to measure the water level and currents along the coast. We thank our summer students Stephen King and Mitchell Logie and wish them well in their second year of study at COGS and Tyler Yorke in his second year in the Energy Sustainability program. Calvin Gough has stayed on with us for his CO-OP term until January when he will return to Dalhousie to continue his Environmental Engineering program. Sean Dzafovic, a recent graduate from the Ocean Technology program at NSCC, has stayed on with us to continue to work on coastal water properties in relation to our topo-bathymetric lidar research.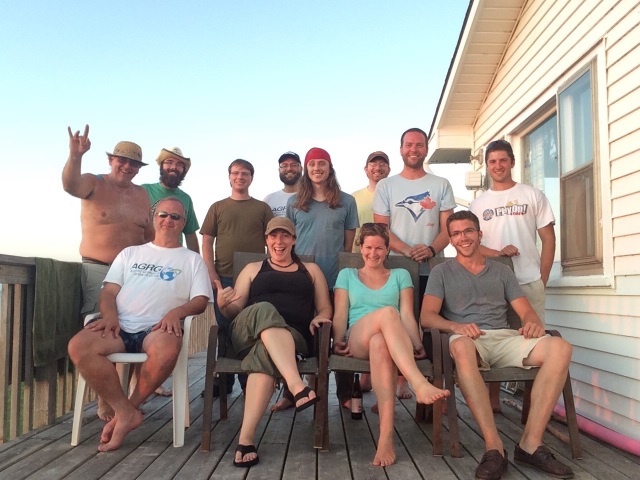 Figure 1 Coastal team: back left to right: Dr. Tim Webster, Matt Roscoe, Mitchell Logie, Stephen King, Kevin McGuigan, David Kristiansen, Nathan Crowell, Calvin Gough. Front row left to right: Sean Dzafovic, Candace MacDonald, Kate Collins and Tyler Yorke.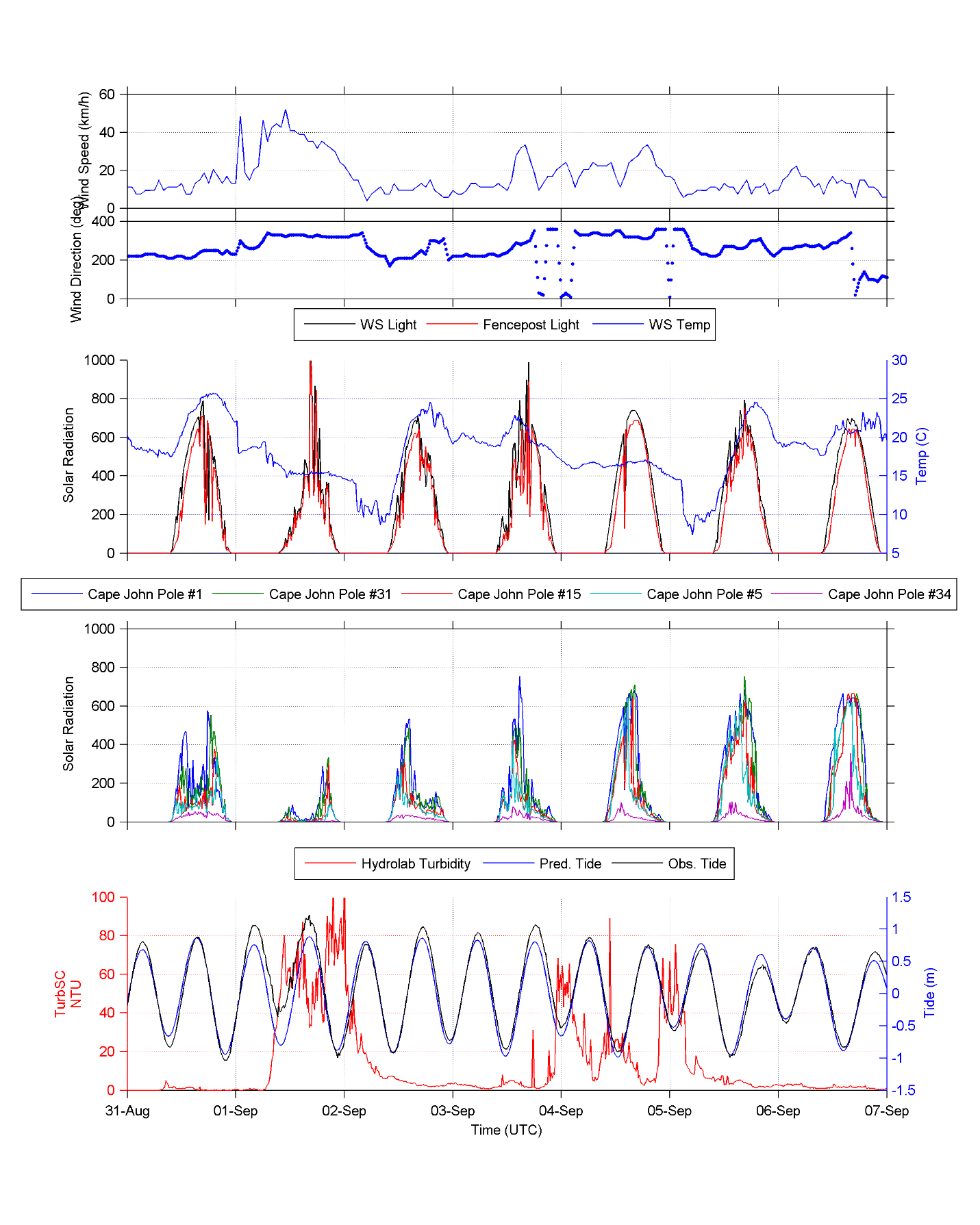 Figure 2 Example of a time series of coast near shore data. Top graph is wind speed and direction. Next is the light sensor comparison between our weather station and a light sensor on a fence post similar to those deployed under water. Next are light sensors at different water depths with #1 being shallow and #34 being the deepest. The bottom plot records the tide level (note the storm surges Sep 1 and 4, with turbidity levels. The increased turbidity limits the amount of light penetrating the water column similar to the effects it has on the green laser of the lidar sensor.
The upcoming Topo-Bathy lidar Mission
The team is busy preparing to conduct another set of topo-bathymetric lidar surveys throughout NB and NS with many different project partners including: DFO Gulf Region, DFO Maritimes, NSERC funded Engage projects with Parsons Investments and Pieridae Energy, and NSERC Applied Research and Development projects with Leading Edge Geomatics and Acadian Seaplants.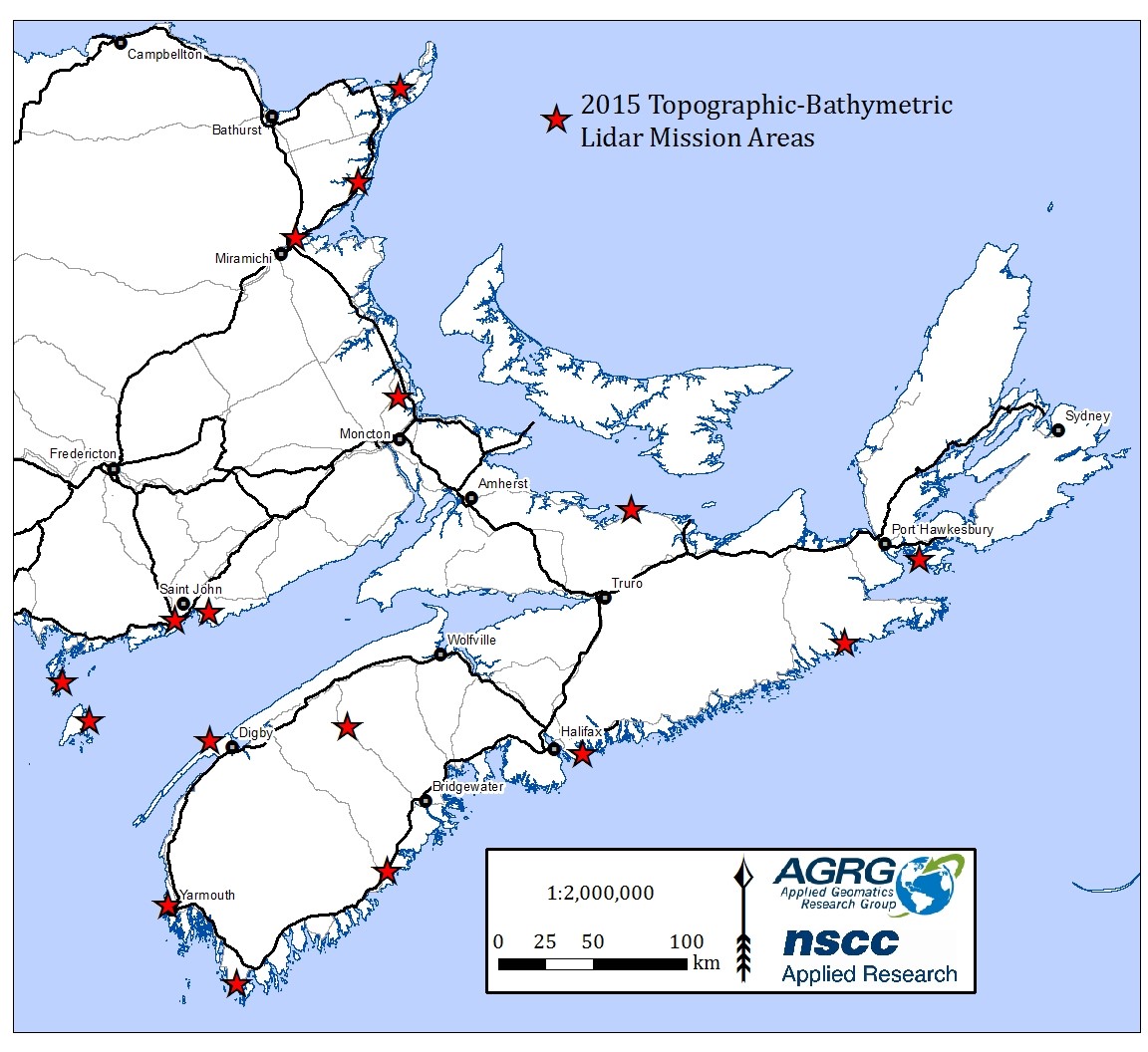 Figure 3 Planned topo-bathymetric lidar survey areas 2015.