"AGRG Workshop on the Results of their Topo-Bathymetric lidar Surveys a huge success"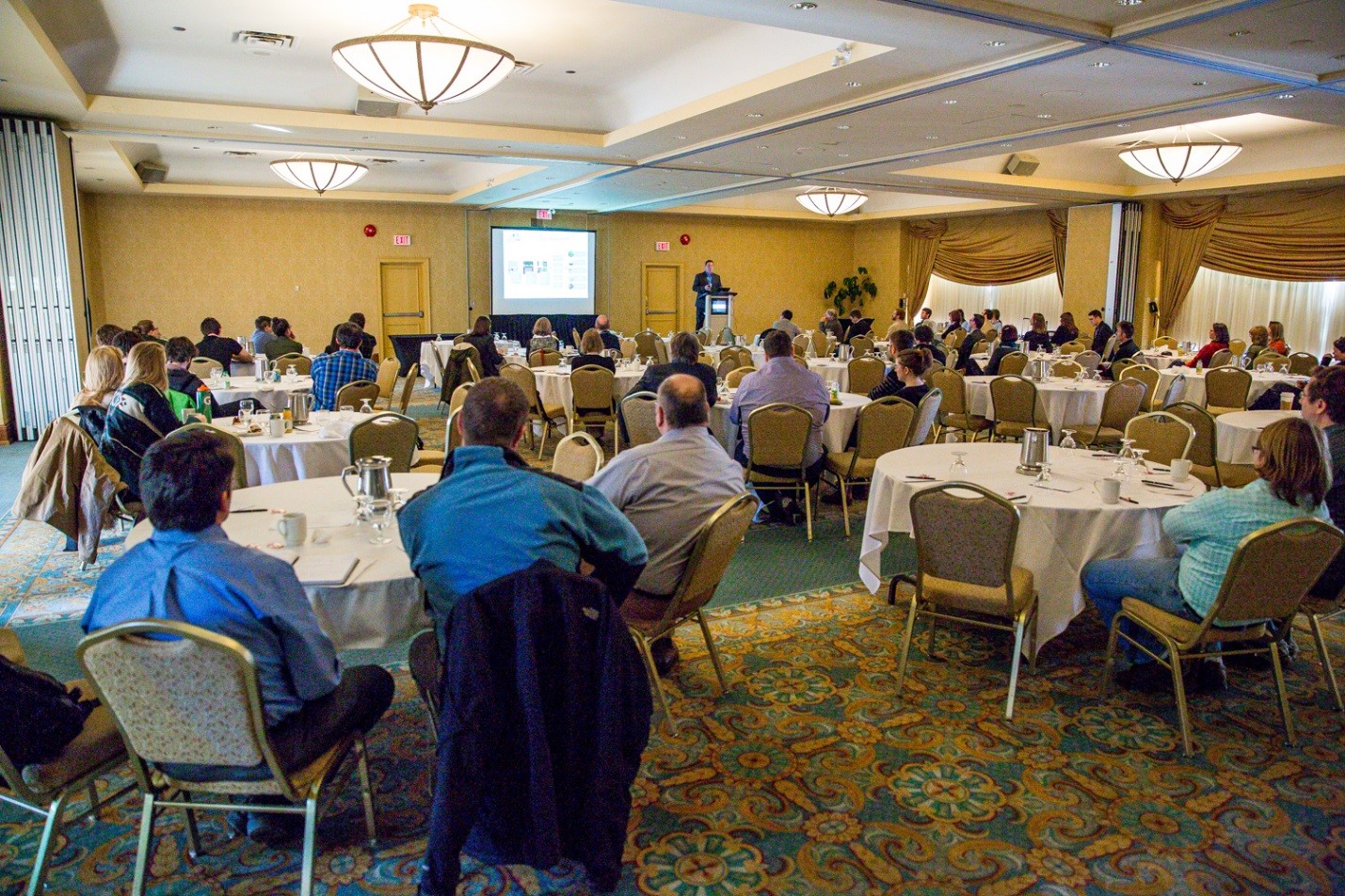 Even in the midst of winter's stormy weather and flu season, over 70 people attended the workshop hosted by Dr. Tim Webster and his team of research associates at the Delta Halifax Hotel on March 3rd. With support from Springboard and NSERC the group presented the results of the first mission of data collection and processing of their Chiroptera II topo-bathymetric lidar sensor.

Dr. Webster kicked the event off and reviewed the Canada Foundation for Innovation grant and industry partners who were involved to fund the new research equipment which also included a mobile mapping laser scanner (Dynascan 250S from MDL) and a 24 ft ocean worthy boat, new Leica survey grade GPS receivers as well as the Chiroptera II. This was followed up by presentations from Nathan Crowell, AGRG on the automated processing of colour and NIR orthophotos captured with the Leica RCD30 camera that is part of the Chiroptera II sensor suite. Kevin McGuigan, AGRG presented on the lidar processing methods applied to these data to produce useful GIS products. Candace MacDonald and Kate Collins, AGRG then presented on the planning and fieldwork, including water clarity measures and seabed photos for bottom cover identification, associated with the lidar surveys. After the theory and data processing lectures, the workshop moved into several case study results and we heard from Dr. Tim Webster on the results of surveys at Cape John and Little Harbour, NS where AGRG partnered with ACOA and several NS provincial departments. Candace MacDonald presented on Bennery Lake where AGRG partnered with Halifax Water and NSERC to test the sensor for mapping Lake Bathymetry for water reservoir calculations. Kate Collins presented on Lake Banook where AGRG partnered with Stantec Consulting Inc. and NSERC to test the sensor for mapping submerged aquatic vegetation and Lake Bathymetry. David Colville, research scientist at AGRG presented on the topo lidar and orthophotos from the sensor for Sable Island where AGRG partnered with Parks Canada to map the vegetation communities and geomorphic change. Kevin McGuigan presented on eelgrass mapping using lidar for Tubusintac where we partnered with Public Works Government Services Canada and Cocange where we mapped oyster aquaculture infrastructure and eelgrass to examine the relationships for Department of Fisheries and Oceans Science Branch for the Gulf Region and lastly Nathan Crowell presented results for Isle Madame where a survey was conducted to map the coastline including sensitive ecosystems to prepare in the event of a contaminant spill from a tanker where we partnered with Fisheries and Oceans Maritimes Region for World Class Tanker Safety. Bill Kidman, President of Leading Edge Geomatics also spoke about their experience with the sensor and their role as operations partner to NSCC for the system. Tim Webster also presented the opportunities companies have to work with AGRG-NSCC through the NSERC College Applied Research and Development (ARD) grant where a level 1 provides up to $25,000 with in-kind support only from the company. He concluded the event by telling the audience that the next mission with the Chriroptera II is planned for early-mid July and there is still time for projects to be added to the plan.